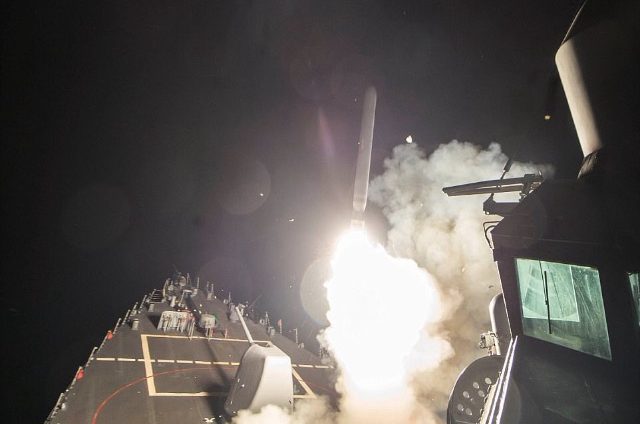 U.S. crude jumped more than 2% in early Friday trading.
After President Trump ordered the first direct American military action against the regime of Syrian President Bashar al-Assad.
The strike (where we saw U.S. warships fire 59 Tomahawk cruise missiles at a Syrian government airbase) ramps up uncertainty in the oil-rich and politically unstable Middle East.
Greg McKenna, chief market strategist at AxiTrader spoke today.
"Geopolitics are often big drivers in oil markets. The U.S. strike against a regime that is backed by the Russians, and in a country where the Iranians are active as well supporting the regime has the potential to cause further political ructions.
The potential reactions from Iran and Russia, both major oil producers, will keep oil traders on edge," he said. "That uncertainty supports prices … in the very immediate term."
U.S. crude, which suffered a sharp drop in early March, hit its highest level in a month on Friday. But by mid-afternoon in Asia, its gains had eased, leaving it trading up 1.2% at around $52.30 a barrel.
Syria is not a major oil producer, but the country is uncomfortably close to the Strait of Hormuz, which is a critical checkpoint, which we see millions of barrels of oil are shipped each day. An escalating conflict in the region could affect our global supply.
Trump said the missile strike was in response to a chemical weapons attack on civilians earlier this week, which the U.S. believes was carried out by the Syrian government.